---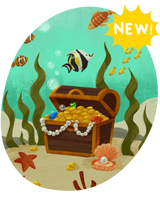 Pirates and Pastries! Stolen Merchandise! Suspicious Swim Students! Allergic Reactions! This case is PACKED full of excitement, mystery and intrigue! Argh, Matey! 
Townsfolk and animals alike are sick with some sort of mysterious illness. Help! Pickledilly town needs YOU, Detective! Crack the case and save the whole town!
Want to see a peek inside or get a hot tip? Contact Chief D.E. at Tiny Mysteries Headquarters by emailing tinymysteriesinc@gmail.com!
This case is best for ages 5+
***DISCLAIMER***
Tiny Mysteries may contain elements of bodily harm or real examples of harmful substances, situations, and/or objects, etc.,  due to nefarious characters, villains up to no-good, and mystery-themed content.  We leave it up to your judgement as parents, guardians, and caretakers to decide if it is appropriate for your child.